Schedule Now
To schedule an appointment, call our patient support team to discuss the many services that our practice can provide for your entire family!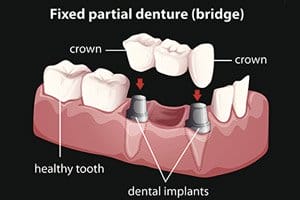 No matter how technology continues to shape our world, there are some parts of traditional dentistry that are still trusted by doctors worldwide. Among the most popular dental procedures are dentures, a part of traditional dental treatment and an essential part of restorative dentistry.
Dentures are a time-tested method to handle the replacement of missing teeth and tissue. The purpose of dentures is twofold: not only do they help those teeth that have been destroyed, but they also serve as a support system for the rest of your healthy, natural teeth.
At Goochland Dentistry, we offer both kinds of dentures: complete and partial. For both kinds, artificial teeth are affixed to flesh-colored bases that are made of plastic or acrylic that comfortably fit into your mouth. It's merely a matter of which denture is the right one for you.
There are also two other options when it comes to complete dentures. You can choose either conventional or immediate complete dentures. Conventional dentures are placed 8 to 12 weeks after all the teeth in the mouth have been removed and the gum tissue has begun to heal. Immediate dentures, on the other hand, are made before the teeth are extracted and can be positioned as soon as the teeth are removed. These require a bit more patience, as repeated visits are often necessary to adjust your dentures to comfortably fit your mouth.
As your mouth heals, the tissues change, so your dentures may require several fittings to guarantee a correct fit. In some cases, patients can benefit from immediate dentures, but most often, they elect for conventional dentures.
Conventional dentures require all your natural teeth to be removed so a full set of replacement teeth can be custom-made. We begin with an appointment for your tooth extraction and then allow 4-6 weeks for a healing period. Once your gums have had the opportunity to heal, you will be ready for your dentures.
Digital technology has improved this procedure with the introduction of software that allows Dr. Murchie to custom-design, and manufacture your dentures made just for your mouth. Digital dentures have been proven to deliver a more solid structure, with a better fit and more durable material-all in addition to a faster and easier process.
Also, because your information is stored digitally, we can repair or replace your denture easily.
After Dr. Murchie places your new dentures, we will take the time to thoroughly review and explain all instructions for use, hygiene, and care. Our team will make sure that when you leave our offices, you are confident and comfortable with your new dentures.
Your new dentures may require some minor adjustments as you get used to the fit and placement. Most patients adjust quickly and experience little to no trouble. However, we will happily continue to check, assess, and treat your dentures as needed over the coming years.
To learn more about dentures, give our patient support team a call to schedule an appointment!