Schedule Now
To schedule an appointment, call our patient support team to discuss the many services that our practice can provide for your entire family!
Cosmetic dentistry's advancements in the last couple of decades have elevated its capability to remarkable and exciting levels with life-changing results for thousands of patients. Two of these cosmetic dental procedures offered at Goochland Dentistry are dental veneers and dental bonding, which can provide you with a brand-new, glowing smile that you will be proud to show.
Dr. Murchie has attended numerous continuing education courses for cosmetic dental procedures and is highly regarded in this specialty area of dentistry. Trained to perform both procedures, Dr. Murchie offers experienced and safe veneer or bonding treatments to correct your smile.
Dental veneers and bonding repair many issues plaguing your teeth, including:
Discoloration
Misalignment
Gaps and spaces
Cracks and chips
Veneers and bonding can make an imperfect smile, perfect!
But what is the difference between a veneer and bonding, and which one is right for you?
Veneers are made of porcelain and provide a stronger and long-term solution. They give that "movie star" glow many people seek for their smile. A veneer is a thin porcelain shell that is permanently affixed to the front of your tooth. Because of their durability, porcelain material, and overall craftsmanship, veneers are more expensive than bonding.
Composite bonding offers many of the same benefits as veneers, but it is a more affordable option, using a resin material instead of porcelain. Bonding is excellent for minor fixes that won't break the bank and can be completed during a single appointment, depending on how many teeth are bonded. It is a simple procedure that can truly make a positive impact on your life.
Real Patients Real Results Before and After Results of Our Patients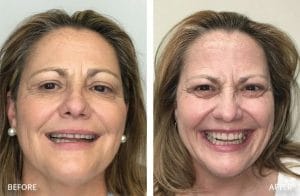 The bonding procedure requires a minor tooth adjustment to make room for your tooth's new covering. Then, the resin is molded and shaped onto your tooth to mimic your natural tooth enamel. Once it is hardened by a specialized UV light, it is permanently set. Bonding will last for at least 7 years with proper care and can often last for many more years.
Still, bonding can change over time by slowly staining and fading. It is not the ideal option for those who do not intend to change negative lifestyle habits, such as smoking, consuming dark-colored liquids like coffee, or even eating certain foods. Despite this, bonding can give you that beautiful smile you've been dreaming about.
Veneers offer you beauty and strength that move the bar all the way to extreme makeover status. Additionally, veneers are a longer-term solution with results that can last up to 20 years with proper care.
Your new veneers will be placed over a series of appointments (the number of appointments is dependent on how many veneers you're having done).
Just like the bonding process, Dr. Murchie will slightly alter the surface of your tooth to make room for the new veneer. Digital impressions are then taken so that we can custom-create the exact fit and shape of your tooth at the laboratory. You will leave that appointment with a temporary cover over your tooth. Once the veneer is made you will return to the office so it can be placed.
Both veneers and bonding are custom-designed to match the exact shade of your natural teeth with the precise shape and size.
An essential part of the process is an in-office consultation to determine whether veneers or bonding are the right treatment for you. Based on your wants and needs, and Dr. Murchie's analysis, we will make the best recommendation for your treatment and we will move forward with the planning process.
Here at Goochland Dentistry, you can be sure our team will carefully listen to your feedback and then turn it into a reality for your dental cosmetic makeover. It's all a part of what we do in delivering your best smile to you!
Schedule a consultation to discuss how bonding or veneers may be right for you!