Schedule Now
To schedule an appointment, call our patient support team to discuss the many services that our practice can provide for your entire family!
Patient Forms
To serve you that much faster, feel free to complete your forms in advance on your computer!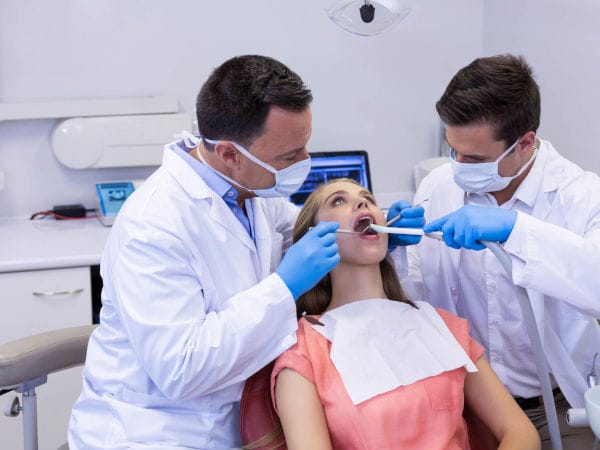 Technology and advancements in healthcare go hand-in-hand which greatly improves lives, without much doubt. Dr. Murchie and his skilled team at Goochland Dentistry utilize advanced dental technology to enhance your treatment which will hopefully provide you with a better experience at his office. There no longer needs to be an association of pain and discomfort with dental treatment. Now, more than ever, dental care can be a positive experience for patients because of technological advancements.
iTero® Scanner
The iTero® scanner is digital equipment that Dr. Murchie uses so he can see a clear and detailed image of your mouth, and it can also provide an "impression-like," 3-D image, without the hassle of taking a goopy mold of your teeth. As a result, the image can be electronically sent to a lab where dental restorations like crowns and veneers are made to fit your mouth. Invisalign® clear aligners can also be made from the images taken with the iTero® scanner.
The iTero® scanner captures images of your mouth from a small, hand-held wand Dr. Murchie moves around your mouth. The wand can capture thousands of frames per second and pieces them together to form a 3-D image of your mouth. Now, this scanner is smaller than originally designed and better able to reach difficult molar teeth. The patient is more comfortable while these images are being captured and those with a strong gag reflex are less likely to do so because the wand is quite small. The image the wand captures is projected onto a monitor in real-time which allows Dr. Murchie the ability to make adjustments to the quality of the image. This technology saves a lot of time for everyone.
Digital X-rays
Another innovative technology that we use is our digital X-ray machine. Like the iTero® scanner, digital X-rays are transforming the way that we can look at your teeth. Digital X-rays are more efficient and safer for you than traditional X-rays because they require significantly less radiation.
Like traditional X-ray imaging, a digital X-ray, also known as digital radiography, takes a photo of your mouth. However, it uses digital sensors instead of traditional photographic film, so the image can be seen almost instantaneously on a monitor. The sensors are carefully connected to a computer and then placed in your mouth. Once exposed, the sensor produces or displays the image of your teeth onto a screen. The images are clear and detailed and can be stored electronically for easy access and referral.
The clarity of detail provided by a digital X-ray is incredibly helpful to Dr. Murchie and his patients. Small cavities, bone loss, and jaw abnormalities can be seen earlier in their development than with traditional imaging. As a result, treatment can begin sooner when it's less invasive and costly.
Panorex
The Panorex is another kind of digital X-ray Goochland Dentistry uses to help us diagnose and treat our patients promptly and with more accuracy. Dr. Murchie has invested in this technology to provide him and his team the most advanced equipment and to give his patients the best opportunity for effective, efficient, and long-term dental care.
How does the Panorex benefit you?
Dr. Murchie will use the Panorex equipment for a comprehensive assessment of your entire oral health. Because the Panorex provides a full view of the upper and lower jaws, teeth, temporomandibular joints (TMJs) and sinuses, Dr. Murchie can see the whole picture, so to speak. With the full view of your mouth, he can see the impact of any abnormalities which he may not have been able to see with a standard X-ray. For example, the Panorex will show tumors or cysts, extra teeth, impacted teeth, and several other conditions that when treated for, can alleviate the need for other treatments.
Sometimes, seeing is believing and the Panorex digital X-ray machine offers a full view of patients' oral health.
Digital Smile Design App
Dr. Murchie, and the talented team at Goochland Dentistry, apply the Digital Smile Design method to many of our cosmetic dental makeover patients. Digital Smile Design takes advantage of technological devices to aid the treatment process and engage the patient. Part of this technology includes an App that can be used on iPads and iPhones. It makes extensive use of videos and computer simulations to show patients how their teeth and smile will look before, during, and after treatment is completed.
Dr. Murchie leads the team at Goochland Dentistry to use technology to their and the patients' benefit. The benefits to the patients make the investment worthwhile. We seek the best for you! Please contact us with any questions about how our office uses technology to provide the best care and treatment for our patients.